WELCOME !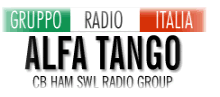 Welcome to the new ALFA TANGO web site. It has been completely rewritten and semplified in order to find all needed information quickly and easily.
But not all the job is done jet. Most parts will be added day by day.
To have a better experience with it you should register. All the 11m Dx'ers are welcome!
Aren't you an ALFA TANGO member yet?
Your account will be enabled shortly, with standard privileges that allow to use most of the tools available here.
If you are looking to how to join our Group, just take a look of the F.A.Q.
Are you already an ALFA TANGO member?
If so your account will be upgraded by the webmasters in order to allow you the proper access to articles, files and tools wich are reserved to AT members only. To get this upgrade is required that you are in "good standing" with the current year membership. Our databases are sinchronized weekly, usually during the weekend, so please be patient.
In any case... welcome!