Page 1 of 7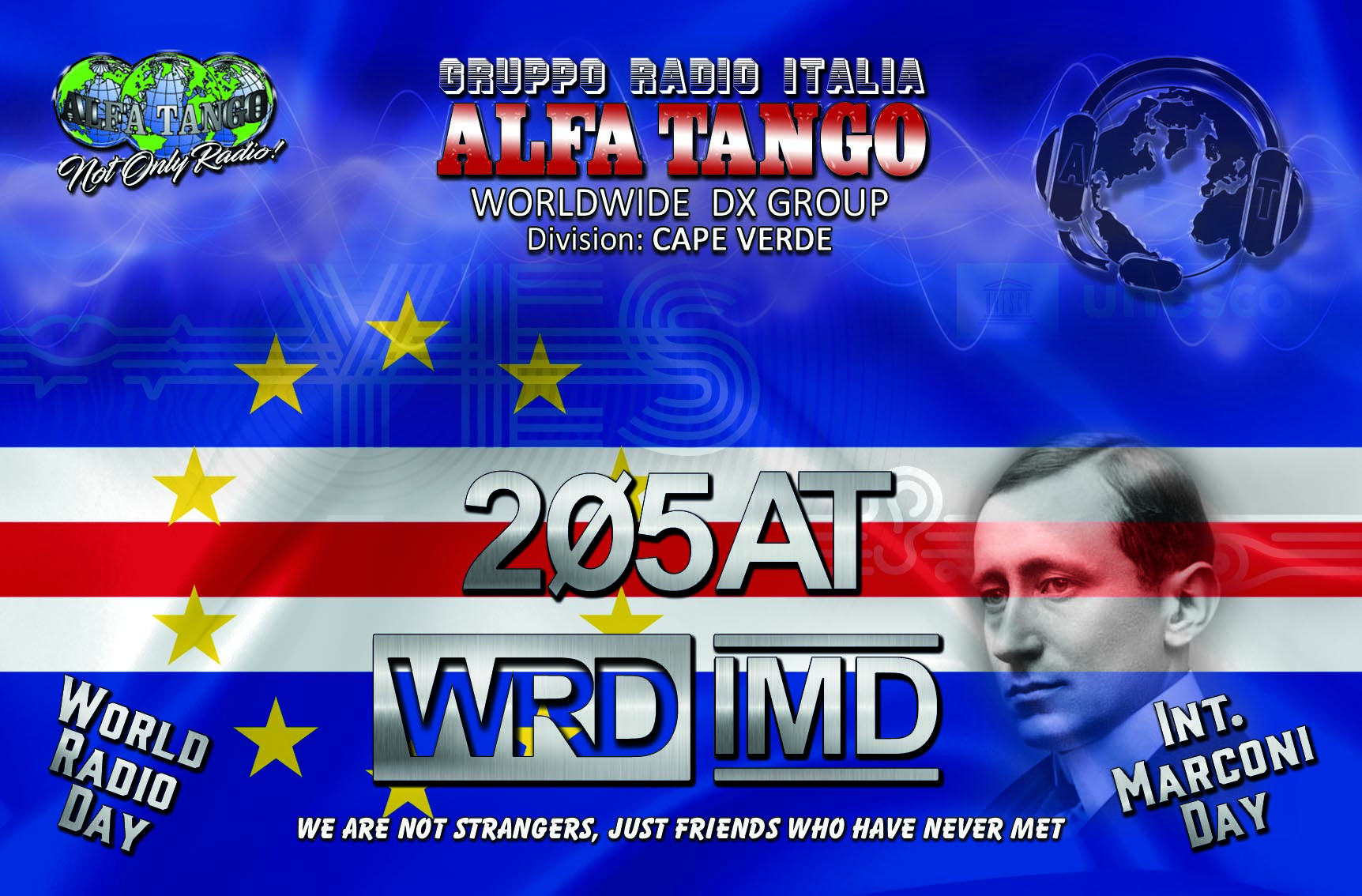 Marconi's Celebrations: 22/25 April 2023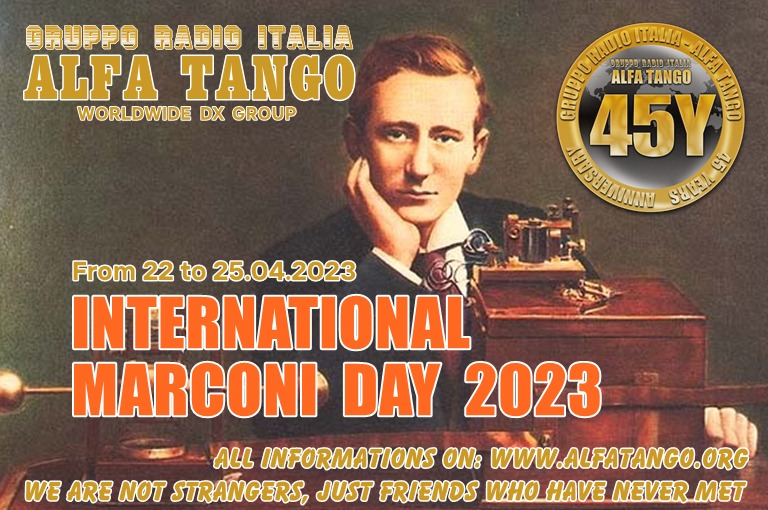 To celebrate the World Radio Day and the International Marconi Day the G.R.I. ALFA TANGO will be on air with several Special Event Stations:
most recent revision: 2023/03/05

xxxAT/WRD - World Radio Day: 11/12/13 February 2023
xxxAT/IMD - International Marconi Day: 22/23/24/25 April 2023
1AT000 - 1AT000 QRV on both dates!
This is not a contest

. There are no rankings or special prizes. The special stations will operate as simple S.E.S. and will answer to all the hunters worldwide in honor of the Radio and in memory of its inventor Guglielmo Marconi.
Participation:

The event is open to all 11m operators and for the hunters prior registration is not required

.


Duration
The special events will take place:
World Radio Day (72 hours)

International Marconi Day (96 hours)

From 00:00 UTC 11/02/2023 to 23:59 UTC 13/02/2023

1AT000
1AT/WRD
2AT/WRD
3AT/WRD
9AT/WRD
13AT/WRD
14AT/WRD
19AT/WRD
20AT/WRD
21AT/WRD
26AT/WRD
29AT/WRD
30AT/WRD
31AT/WRD
34AT/WRD
47AT/WRD
56AT/WRD
68AT/WRD
108AT/WRD


137AT/WRD


161AT/WRD
163AT/WRD
205AT/WRD

Official Hashtag: #WorldRadioDay - Official Site (UNESCO)


ON AIR: focus on weekend - SES Calling: CQ World Radio Day

CONTACT US:

contact - paper QSL - digital certificate

internal This email address is being protected from spambots. You need JavaScript enabled to view it. (staff only) / ATLogger (activators only)

local bodies, info line: United Kingdom, Scandinavia

This email address is being protected from spambots. You need JavaScript enabled to view it. (activators radio station pics) - This email address is being protected from spambots. You need JavaScript enabled to view it. (SES paper card)

Social Media This email address is being protected from spambots. You need JavaScript enabled to view it.

From 00:00 UTC 22/04/2023 to 23:59 UTC 25/04/2023

1AT000
1AT/IMD
2AT/IMD
3AT/IMD
9AT/IMD
13AT/IMD
14AT/IMD
19AT/IMD
20AT/IMD
21AT/IMD
26AT/IMD
29AT/IMD
30AT/IMD
31AT/IMD
34AT/IMD
47AT/IMD
56AT/IMD
68AT/IMD
108AT/IMD
137AT/IMD
161AT/IMD
163AT/IMD
205AT/IMD

Hashtag: #Marconi

ON AIR: focus on weekend - SES Calling: IMD, Marconi's Celebrations

CONTACT US:

contact - paper QSL - digital certificate

internal This email address is being protected from spambots. You need JavaScript enabled to view it. (staff only) / ATLogger (activators only)

local bodies, info line: United Kingdom, Scandinavia

This email address is being protected from spambots. You need JavaScript enabled to view it. (activators radio station pics) - This email address is being protected from spambots. You need JavaScript enabled to view it. (SES card)

Social Media This email address is being protected from spambots. You need JavaScript enabled to view it.

Divisional SES Team Leader: 1AT226, 1AT272, 1AT304, 2AT041, 3AT059, 9AT119 & 9AT124, 13AT012 & 13AT015, 14AT065, 19AT046, 20AT026, 21AT211, 26AT043, 29AT057, 30AT051, 31AT093, 34AT077, 47AT818, 56AT116, 68AT137, 108AT046 & 108AT077, 137AT111, 161AT012 & 161AT029, 163AT011, 205AT048
Band and bandplan:
Activity must take place on 11m band. The section of the band between .500 and .600 included (so called DX part) cannot be used for QSO. In fact, our special stations will operate on the basis of this bandplan. Participants are encouraged to comply with current legislation regarding the use of their equipment and the allocated band.

Scoring:
Hunters can only make QSO with special Event Stations once and the two sessions are considered as a single "on air" event.
Exchange and Validity of contacts:
There is no serial number system (no progressive numbers).
Just 59 or 599, in the log.

The validity of the QSO will be verified by our softwares. There is no need for hunters to submit their log: QSO will be confirmed based on the special event stations logs.


Certificate download:
On the end of the event all hunters can dowload their participation certificate (full color award A4) by 1AT074 Max from the AT Portal. ( Download 2022 certificate: https://www.athq.org/wrd/ - https://www.athq.org/imd/ )
Note that the paper QSL of the first edition (2021) are also available and always via 1AT041: 1AT0, 1AT/IMD & 1AT/WRD - Year 2021