Calendar
Date

11/02/2023

00:00

-

13/02/2023

23:59
Url
Description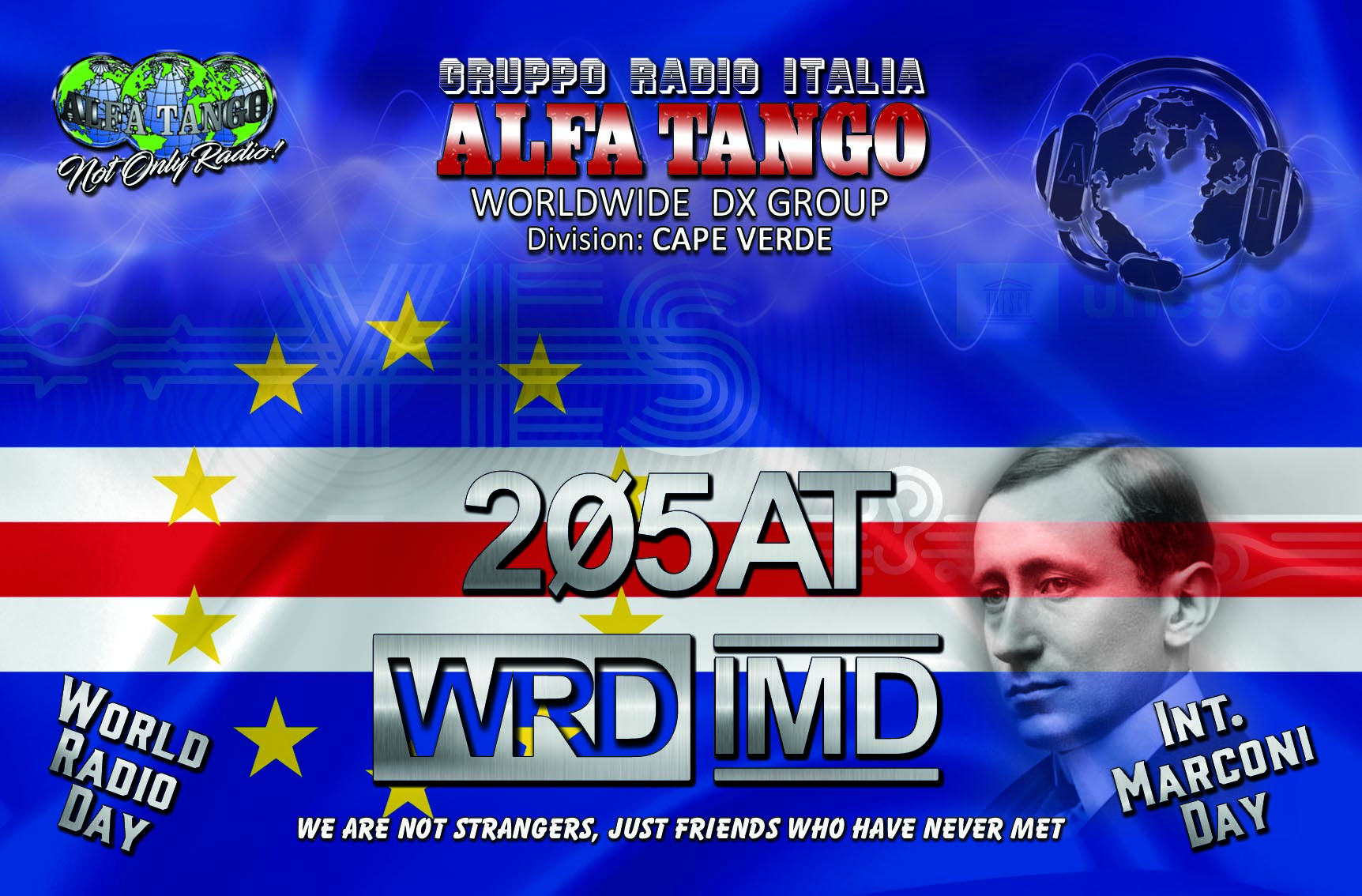 2024 Edition: Under Construction!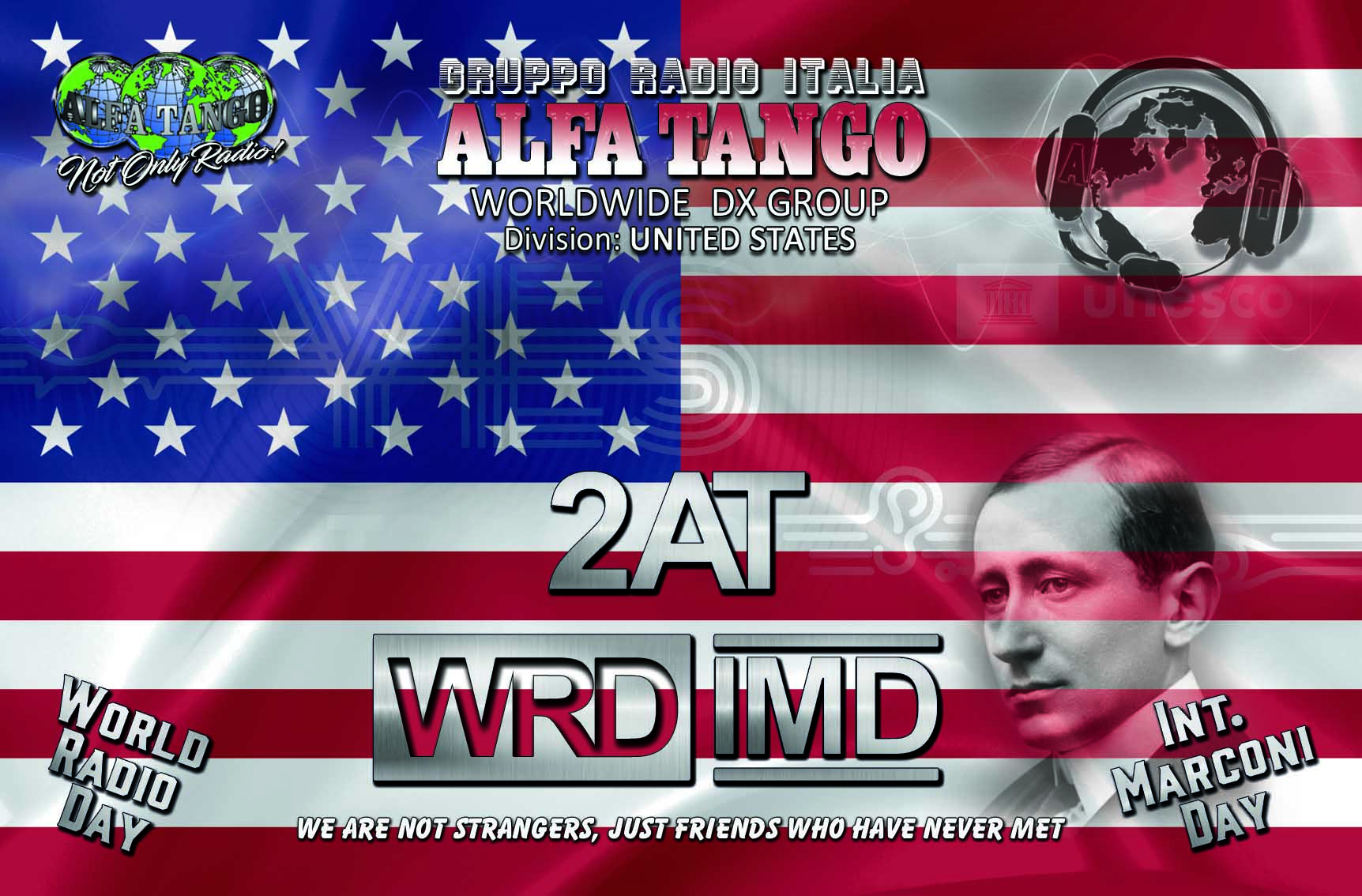 To celebrate the World Radio Day and the International Marconi Day the G.R.I. ALFA TANGO will be on air with several Special Stations:
  

most recent revision: 2023/08/

31 | under costruction




xxxAT/WRD - World Radio Day 2024: ___
xxxAT/IMD - International Marconi Day 2024: ___
xxxAT000/R/A/D/I/O - xxxAT000/R/A/D/I/O QRV on both dates! 
This is not a contest

.  There are no rankings or special prizes. The special stations will operate and answer to all the hunters worldwide in honor of the Radio and in memory of its inventor Guglielmo Marconi.
Participation: The event is open to all 11m operators and for the

hunters

prior registration is not required. 


Duration
The special event will take place:
World Radio Day (xx hours)

International Marconi Day (xx hours)

From 00:00 UTC xx/02/2024 to 23:59 UTC xx/02/2024

Under Costruction. Checkback later!


1AT/WRD
2AT/WRD
3AT/WRD
4AT/WRD
5AT/WRD
9AT/WRD
12AT/WRD
13AT/WRD
14AT/WRD
15AT/WRD
19AT/WRD
20AT/WRD
21AT/WRD
25AT/WRD
26AT/WRD
29AT/WRD
30AT/WRD
31AT/WRD
32AT/WRD
34AT/WRD
43AT/WRD
47AT/WRD
56AT/WRD
58AT/WRD
67AT/WRD
68AT/WRD
75AT/WRD
79AT/WRD
91AT/WRD
108AT/WRD
112AT/WRD
137AT/WRD
153AT/WRD
161AT/WRD
163AT/WRD
165AT/WRD
198AT/WRD
205AT/WRD
225AT/WRD

Official Hashtag: #WorldRadioDay - Official Site (UNESCO)


ON AIR: focus on weekend - Calling: CQ World Radio Day

 CONTACT US: 

contact - paper QSL - digital certificate 

internal This email address is being protected from spambots. You need JavaScript enabled to view it. (staff only)  /  ATLogger (activators only) 

local bodies, info line: United Kingdom,  Scandinavia, South America, Overseas France

This email address is being protected from spambots. You need JavaScript enabled to view it. (activators radio station pics) - This email address is being protected from spambots. You need JavaScript enabled to view it. (paper card)

Social Media This email address is being protected from spambots. You need JavaScript enabled to view it.

From 00:00 UTC xx/04/2024 to 23:59 UTC xx/04/2024

Under Costruction. Checkback later!


1AT/IMD
2AT/IMD
3AT/IMD
4AT/IMD
5AT/IMD
9AT/IMD
12AT/IMD
13AT/IMD
14AT/IMD
15AT/IMD
19AT/IMD
20AT/IMD
21AT/IMD
25AT/IMD
26AT/IMD
29AT/IMD
30AT/IMD
31AT/IMD
32AT/IMD
34AT/IMD
43AT/IMD
47AT/IMD
56AT/IMD
58AT/IMD
67AT/IMD
68AT/IMD
75AT/IMD
79AT/IMD
91AT/IMD
108AT/IMD
112AT/IMD
137AT/IMD 
153AT/IMD
161AT/IMD
163AT/IMD
165AT/IMD
198AT/IMD
205AT/IMD
225AT/IMD

Hashtag: #Marconi

ON AIR: focus on weekend - Calling: IMD, Marconi's Celebrations 

 CONTACT US:

contact - paper QSL - digital certificate 

internal This email address is being protected from spambots. You need JavaScript enabled to view it. (staff only)  /  ATLogger (activators only)

local bodies, info line: United Kingdom, Scandinavia, South America, Overseas France

This email address is being protected from spambots. You need JavaScript enabled to view it. (activators radio station pics) - This email address is being protected from spambots. You need JavaScript enabled to view it. (card)

Social Media This email address is being protected from spambots. You need JavaScript enabled to view it.
          
Divisional Team Leader: 1AT226, 1AT272, 1AT304, 2AT041, 3AT059, 4AT236, 5AT046, 9AT119 & 9AT124, 12AT060, 13AT012 & 13AT015, 14AT065, 15AT011, 19AT046, 20AT026, 21AT211, 25AT016 & 25AT025, 26AT043, 29AT057, 30AT051, 31AT093, 32AT012 & 32AT093, 34AT077, 43AT011, 47AT818, 56AT116, 58AT430, 67AT135, 68AT137, 79AT123, 91AT999, 108AT046 & 108AT077, 112AT149, 137AT108 & 137AT111, 153AT777, 161AT012 & 161AT029, 163AT011 & 163AT151, 165AT017, 198AT101, 205AT048, 225AT102
Band and bandplan:
Activity must take place on 11m band. The section of the band between .500 and .600 included (so called DX part) cannot be used for QSO. In fact, our special stations will operate on the basis of this bandplan. Participants are encouraged to comply with current legislation regarding the use of their equipment and the allocated band.
 
Scoring:
Hunters can only make QSO with special stations once.
Exchange and Validity of contacts:
There is no serial number system (no progressive numbers).
Just 59 or 599, in the log.
 
The validity of the QSO will be verified by our softwares. There is no need for hunters to submit their log: QSO will be confirmed based on the special stations logs.

 
Certificate download:
All hunters can dowload their participation certificate (full color award A4) by 1AT074 Max from the AT Portal. ( check for Certificate download and all possible data: https://www.athq.org/wrd/  -  https://www.athq.org/imd/ )
---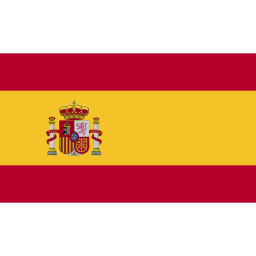 Translated by 30AT051 Ricardo (30AT/WRD-IMD Team Leader) AlfaTango.es
Para celebrar el Día Mundial de la Radio y el Día Internacional de Marconi, el GRI ALFA TANGO estará en el aire con varias Estaciones Especiales.
xxxAT/WRD - Día Mundial de la Radio xxx de febrero de 2024
xxxAT/IMD - Día Internacional de Marconi xxx de abril de 2024
xxxAT000  - xxxAT000 QRV en ambas fechas
No es un concurso. No hay clasificaciones ni premios especiales. Las estaciones especiales operarán y responderán a todos los cazadores del mundo en honor a la radio y en memoria de su inventor Guglielmo Marconi.
Participación: el evento está abierto a todos los operadores de 11m y para los

cazadores

no será necesaria la inscripción previa.

Banda y plan de bandas: La actividad se desarrollará en la banda de 11m. La sección de banda comprendida entre .500 y .600 (llamada para DX) no se puede usar para QSO y nuestras estaciones especiales operarán sobre este plan de bandas. Animamos a que los participantes cumplan con la legislación vigente en cuanto al uso de su equipo y la banda asignada.
Puntuación: Los cazadores sólo podrán hacer QSO una vez con cada estación especial.
Intercambio y validez de contactos: No hay sistema de números progresivos, solo 59 o 599, en log. La validez del QSO será verificada por nuestro software. No será necesario que los cazadores manden su log: los QSOs se confirmarán en función de los registros de las estaciones especiales.
Descarga del certificado: Todos los cazadores podrán descargar su certificado de participación (Award A4 a todo color) de 1AT074 Max desde el portal AT. ( Certificate Download, archive: https://www.athq.org/wrd/  -  https://www.athq.org/imd/ )
---




Translated by 3AT555 Eger and 3AT059 ? Team Leader (3AT/WRD-IMD)

Para celebrar o Dia Mundial do Radio (World Radio Day) e o Dia Internacional de Marconi (International Marconi Day) o G.R.I. ALFA TANGO estará no ar com várias Estações Especiais.
xxxAT/WRD ? Dia Mundial do Rádio: xxx de Fevereiro de 2024
xxxAT/IMD      ?    Dia Internacional do Marconi: xxx de Abril de 2024
xxxAT000 ? xxxAT000 estará QRV em ambas as datas
Isto não é um conteste/concurso. Não haverá classificação (ranking) ou prêmios especiais. As estações especiais funcionarão e contestarão a todos os caçadores do mundo em homenagem ao Radio e em memória ao seu inventor Guglielmo  Marconi.
Participação: este evento é aberto a todos os operadores da banda de 11 metros e para os
caçadores

não é necessária inscrição prévia.

Banda e Plano de Banda: A atividade acontecerá na banda de 11 metros. A secção de banda entre .500 e .600, inclusive, (a parte da banda conhecida como janela de DX) NÃO PODERÁ ser utilizada para QSO. De fato, nossas Estações Especiais operarão com base neste plano de banda. É recomendado aos participantes que cumpram com a legislação no que se refere ao uso de seus equipamentos e banda autorizada.
Pontuação: Caçadores somente poderão fazer QSO com as Estações Especiais uma única vez.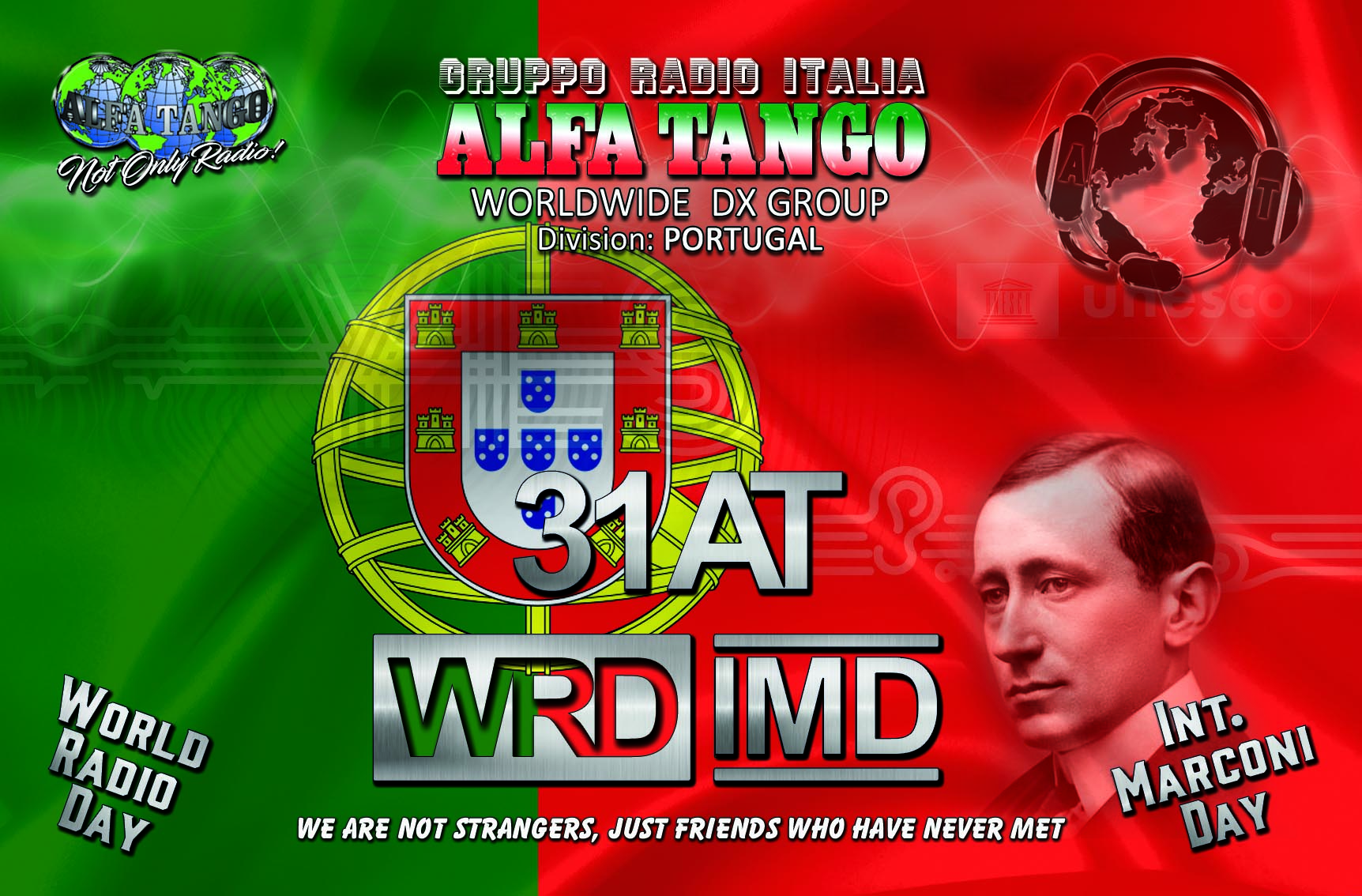 Reportagem e validade dos contatos: Não há sistema de número sequencial (não há número progressivo). Somente 59 ou 599 no log.

A validade do QSO será verificada por nosso software. Não há necessidade dos caçadores (hunters) submeterem seus logs. O QSO será confirmado com base nos logs das Estações Especiais.

Download do Certificado: Todos os caçadores poderão baixar seus certificados de participação (diploma colorido no formato A4), elaborado pelo Max 1AT074, no portal (página) do AT. ( Certificate Download, archive: https://www.athq.org/wrd/  -  https://www.athq.org/imd/ ) 
---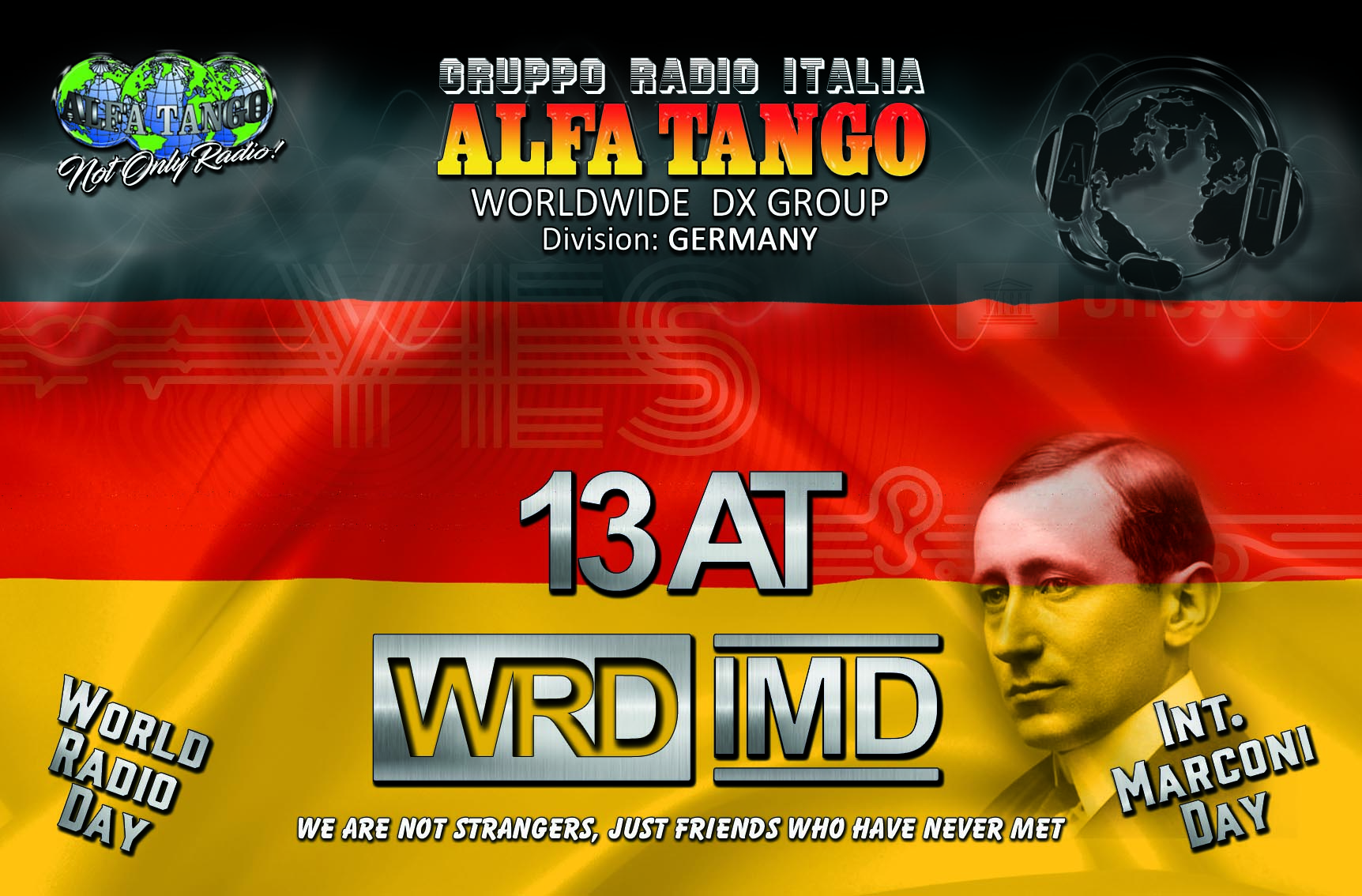 Translated by 13AT015 Joe - paper QSL designer; German Vice Coordinator
Anlässlich des World Radio Day und des International Marconi Day wird GRI ALFA TANGO mit mehreren Special Stations auf Sendung sein.
xxxAT/WRD - World Radio Day xxx Februar 2023
xxxAT/IMD - International Marconi Day xxx April 2023
xxxAT000 - xxxAT000 wird an beiden Events QRV sein
Es handelt sich um keinen Wettbewerb.

Es gibt keine Ranglisten oder Sonderpreise.
Die Sonderstationen werden arbeiten und allen Jägern auf der ganzen Welt zu Ehren des Radios und in Erinnerung an seinen Erfinder Guglielmo Marconi antworten.
Teilnahme: Die Veranstaltung steht allen 11m-Betreibern offen und für die Jäger ist keine vorherige Anmeldung erforderlich.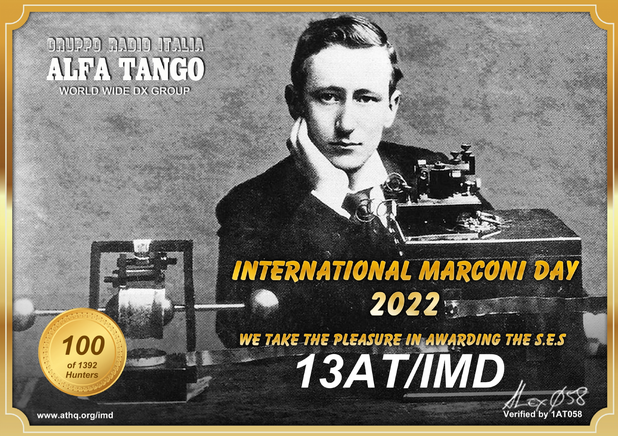 Dauer: Die Veranstaltungen finden statt:
Band und Bandplan: Die Aktivität findet auf dem 11m-Band statt. Der Bereich zwischen .500 bis einschließlich .600 (DX-Bereich genannt) darf nicht für QSOs genutzt werden.
Unsere Sonderstationen werden auf der Grundlage dieses Bandplans arbeiten.
Die Teilnehmer sind angehalten, die geltende Gesetzgebung bezüglich der Nutzung ihrer Ausrüstung und des zugewiesenen Bandes einzuhalten.
Bewertung: Die Jäger dürfen mit jeder Sonderstation nur ein QSO führen.
Austausch und Gültigkeit von Kontakten: Es gibt keine fortlaufenden Nummern (keine Progressiv-Nummern)
Lediglich 59 oder 599 im Log.
Die Gültigkeit des QSOs wird von unserer Software überprüft.
Die Jäger müssen ihr Logbuch nicht einreichen: Das QSO wird auf Grundlage der eingereichten Logs der Sonderstationen bestätigt.
Download der Urkunde: Alle Jäger ihre Teilnahmeurkunde (vollfarbige Urkunde A4) von Max 1AT074 aus dem AT-Portal herunterladen.
---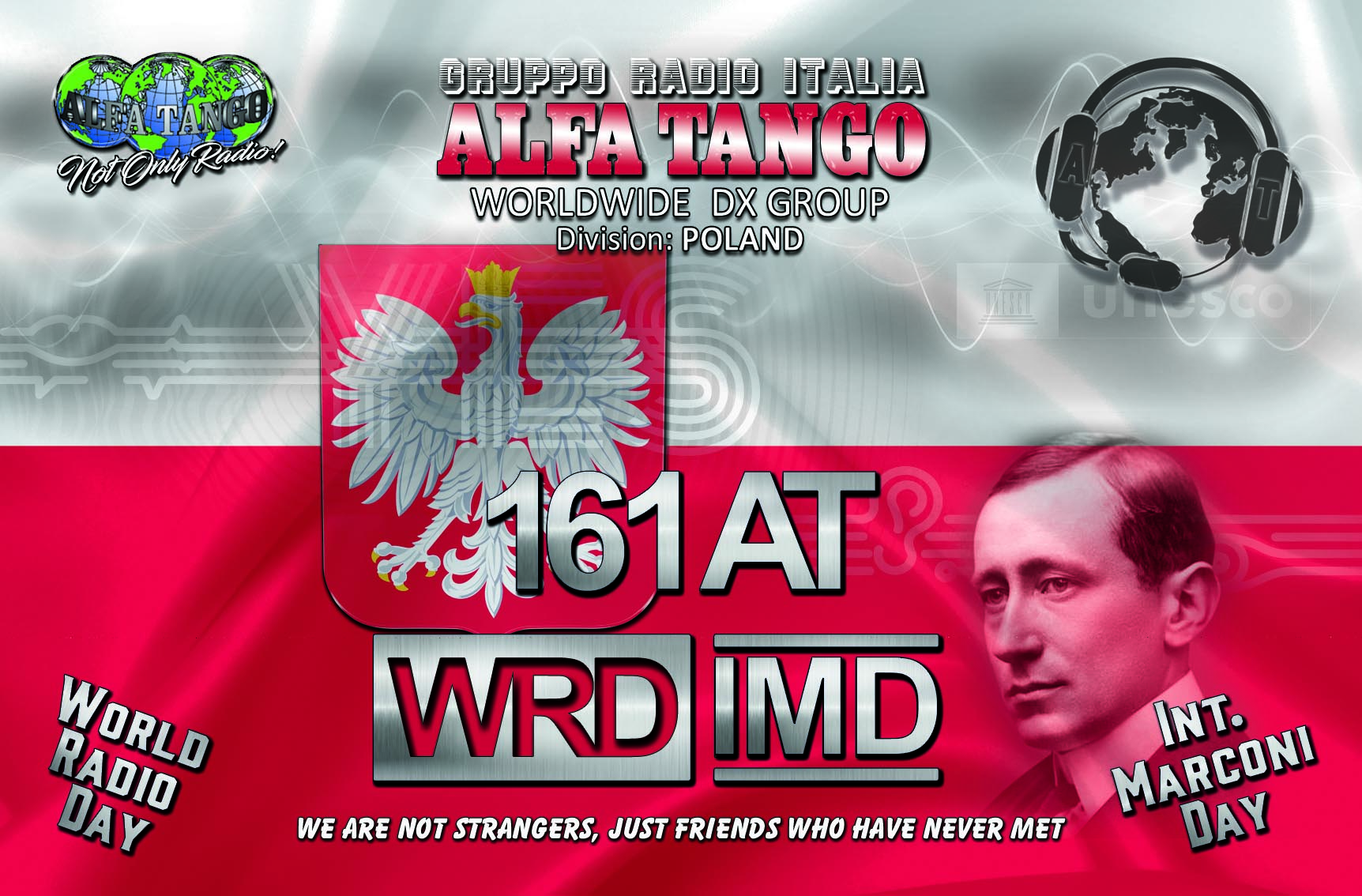 Z okazji ?wiatowego Dnia Radia i Mi?dzynarodowego Dnia Marconiego GRI ALFA TANGO b?d? aktywne na radiu stacje specjalne.
xxxAT/WRD - ?wiatowy Dzie? Radia xxx lutego 2024

xxxAT/IMD - Mi?dzynarodowy Dzie? Marconiego xxx kwietnia 2024

xxxAT000 b?dzie QRV dla obu wydarze?
Nie s? to zawody. Nie ma rankingów ani nagród specjalnych. Stacje specjalne b?d? pracowa? i odpowiada? wszystkim my?liwym-?owc? tych stacji z ca?ego ?wiata na cze?? radia i pami?ci jego wynalazcy Guglielmo Marconi.
Uczestnictwo: Wydarzenie jest otwarte dla wszystkich operatorów 11m, a od
"my?liwych" nie wymaga si? wcze?niejszej rejestracji.
Regulamin: Aktywno?? odbywa si? na pasie 11m. Zakres mi?dzy .500 a .600
w??czony ( zarezerwowany dla DX ) i nie mo?e by? u?ywany w tych aktywacjach.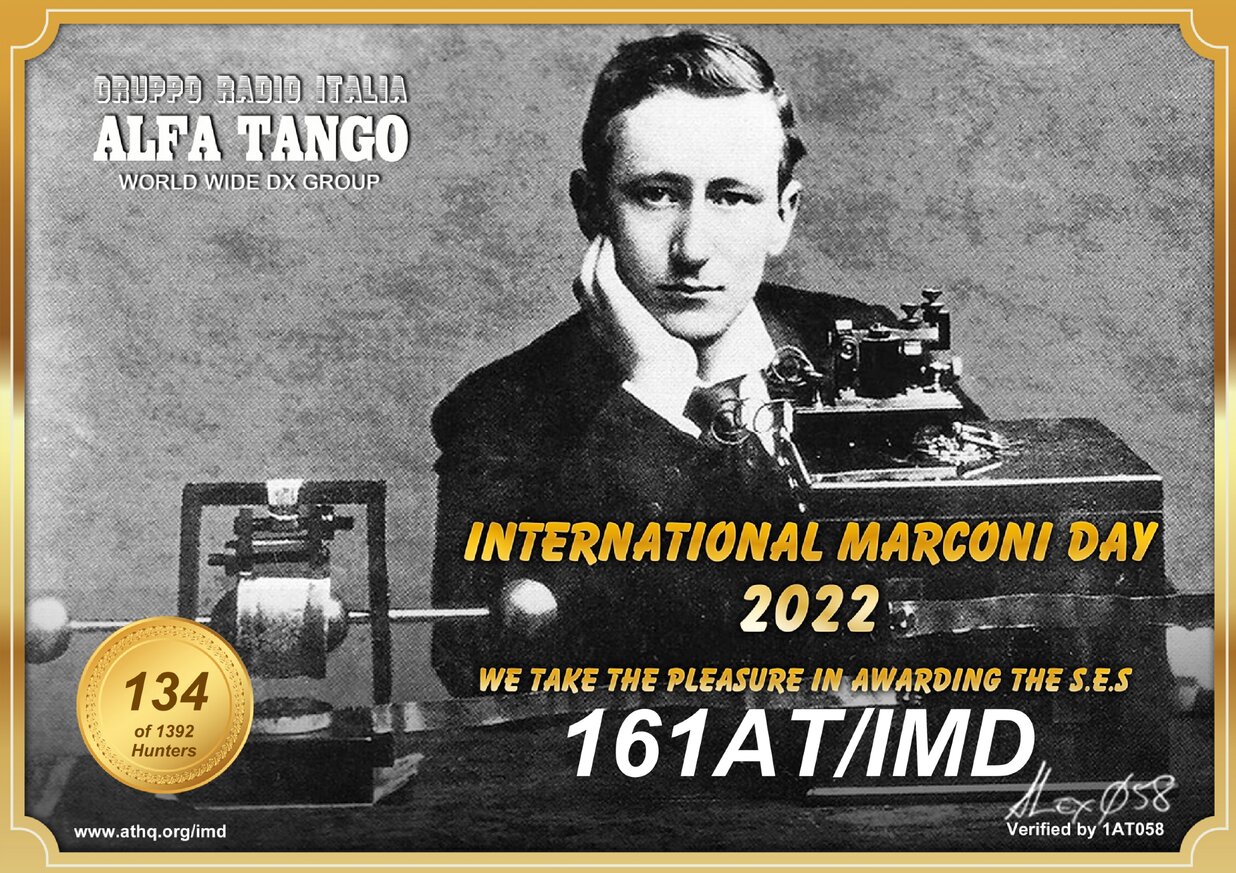 Uczestnicy zobowi?zani s? do przestrzegania obowi?zuj?cego prawa w zakresie u?ytkowania ich sprz?tu oraz przydzielonego im pasma.
Ranking: ?owcy mog? wykona? tylko jedno QSO z ka?d? stacj? specjaln?.
Wymiana i wa?no?? kontaktów: Brak kolejnych numerów (brak numerów progresywnych) Tylko raporty : 59 lub 599 w logu.
Wa?no?? QSO jest sprawdzana przez nasze oprogramowanie.
My?liwym nie przedk?adaj? swoich logów.
QSO zostanie potwierdzone na podstawie przes?anych logów ze stacji specjalnych.
Pobierz certyfikat: My?liwi mog? pobra? swój certyfikat uczestnictwa (certyfikat koloru formatu A4) Max 1AT074 z portalu
AT ( Certificate download, archive: https://www.athq.org/wrd/  -  https://www.athq.org/imd/ ).
---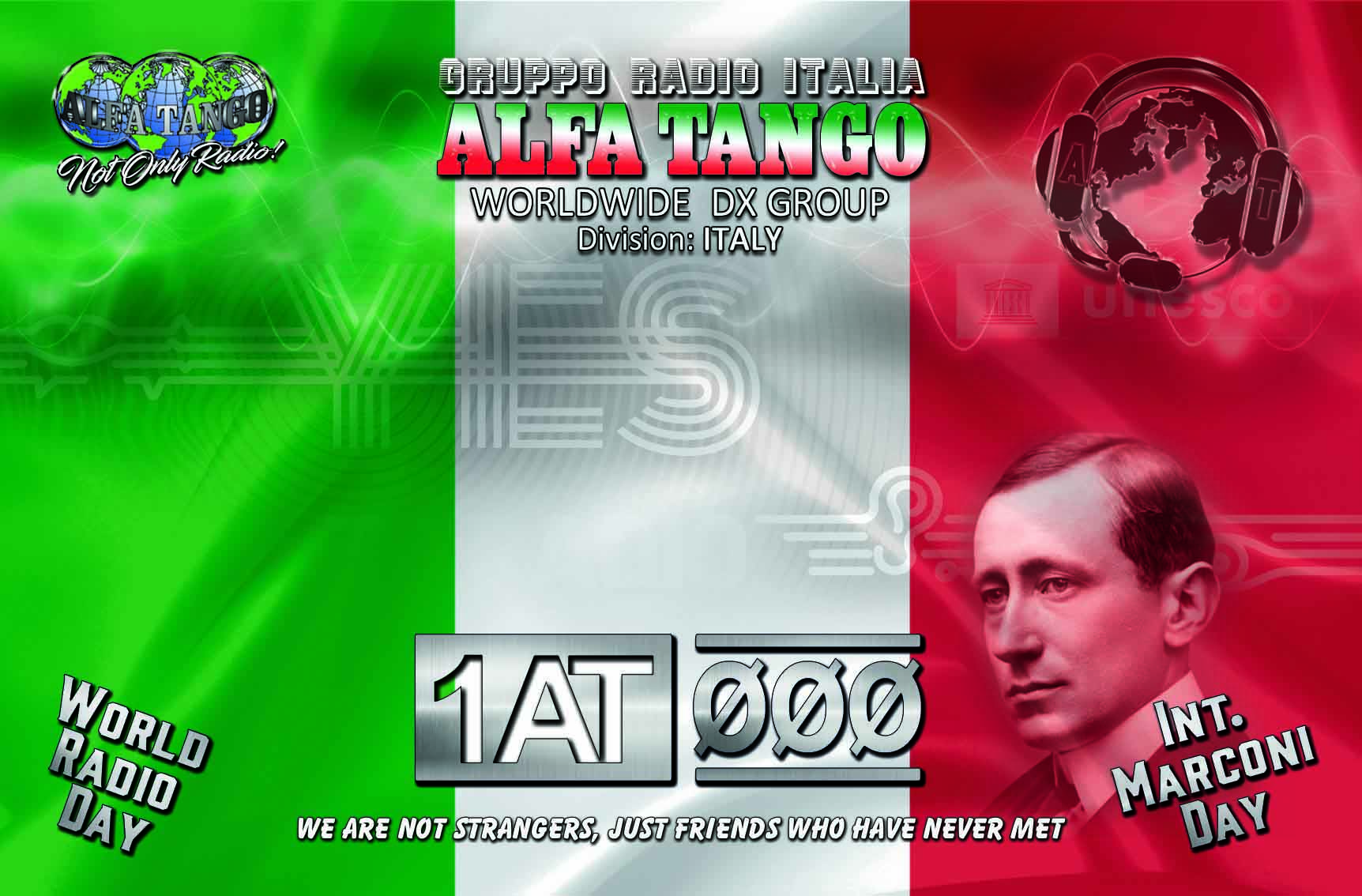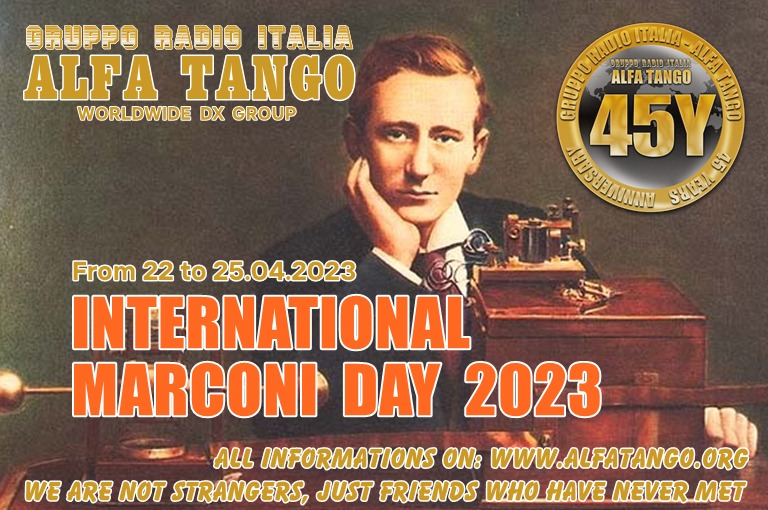 Se il wrapper non funziona clicca semplicemente sul link
Tramite forum riesci ad interagire con alcuni attivatori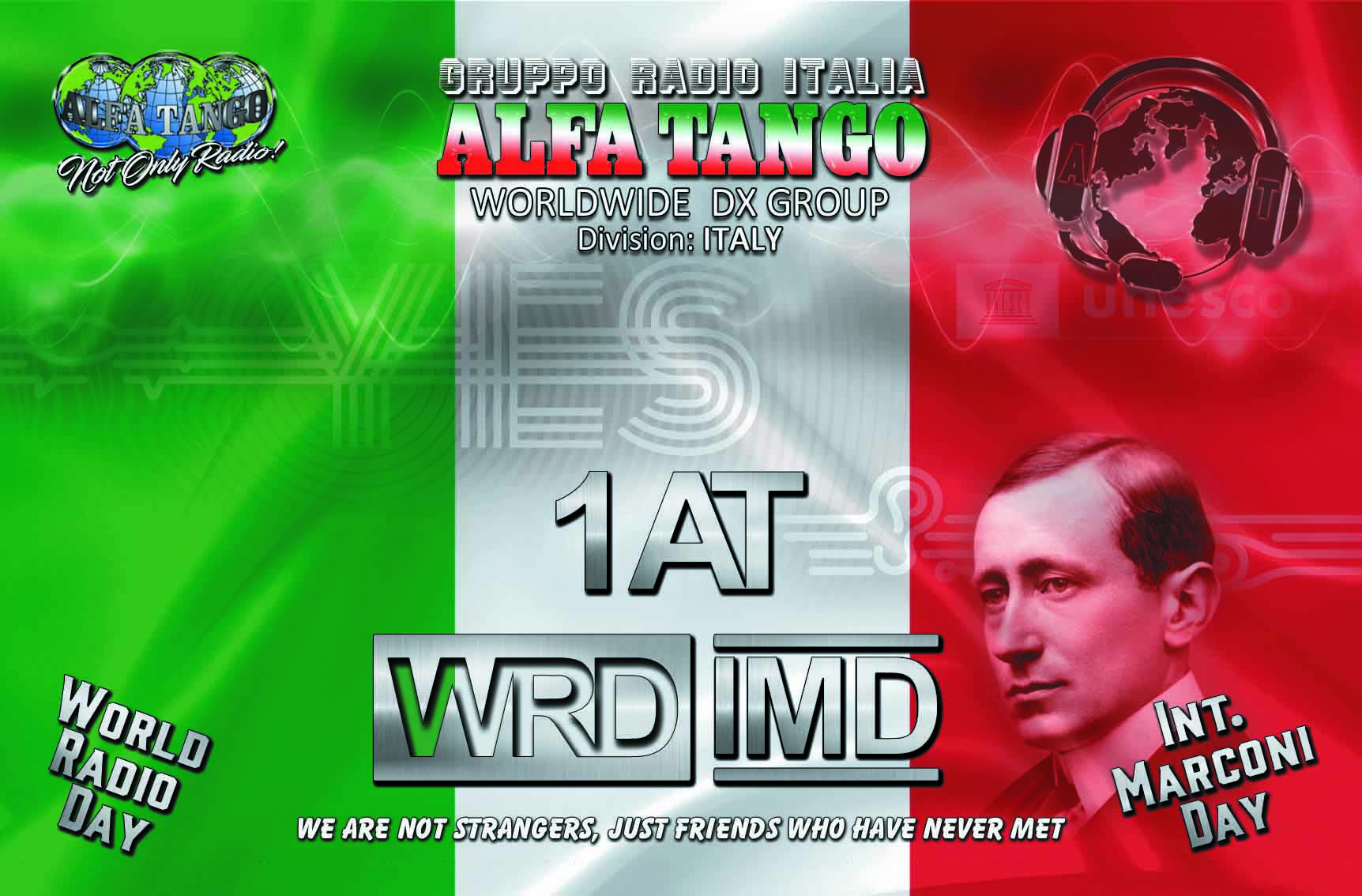 [BdS] World Radio Day 2023
Ciao a tutti,
Il World Radio Day 2023 è alle porte (https://www.unesco.org/en/days/world-radio) ed anche quest'anno, per la terza volta consecutiva, il G.R.I. Alfa Tango sarà "in aria" con varie stazioni speciali: 
11, 12 e 13 Febbraio 2023 per ben 72 ore complessive.
Tutte le informazioni sono sul portale AT. 
I certificati di partecipazione dell'edizione 2022 sono disponibili e possono essere scaricati da https://www.athq.org/wrd/ 
Sperando in una discreta propagazione, vi aspettiamo numerosi! 
Per i cacciatori sarà semplicissimo: basterà accendere la radio e collegare le stazioni xxxAT/WRD + 1AT000 senza inviare il log.
Grazie a 1AT058 Alex, promotore e supervisore dell?evento.
Grazie a 1AT074 Max, graphic designer dei bellissimi certificati di partecipazione.
Buon World Radio Day!
AT HEADQUARTERS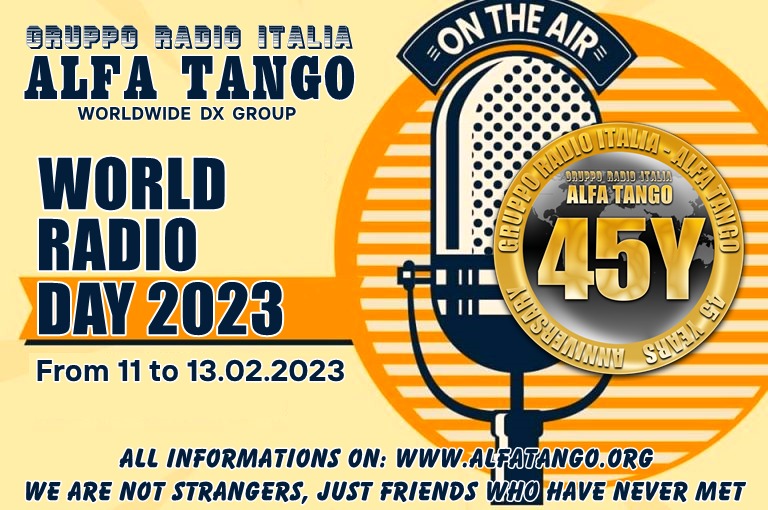 ---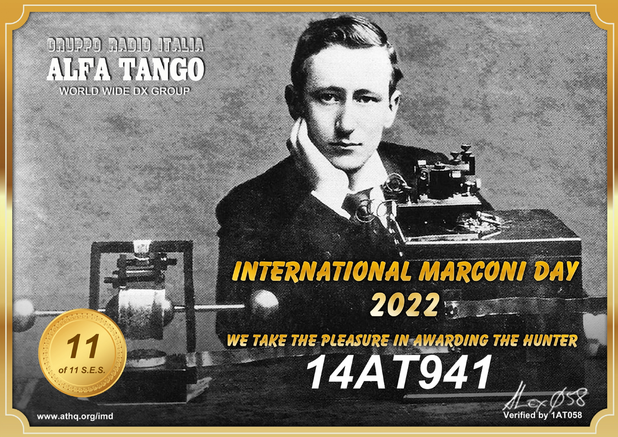 ---
  

UNDER COSTRUCTION
xxxAT000/R/A/D/I/O