Calendar
Date

13/09/2019

-

15/09/2019
Author
Description
AT World Meeting 2019
The World Wide Meeting 2019 will take place in a new and fantastic location:  Milano Marittima.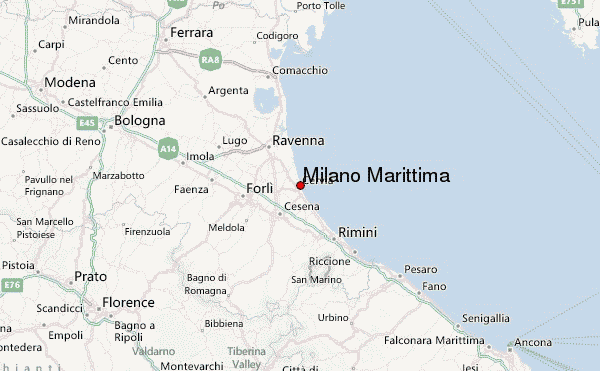 Milano Marittima is located in Emilia-Romagna, in a wonderful area of the Adriatic Coast. A 9km-long coastline characterized by a sandy beach of fine sand and shallow sea. This district lie in a privileged position making it an ideal base for excursions to the hills and Ravenna, the home of Byzantine art.  The Milano Marittima area is characterised by their abundant green and open spaces and by the Salt Pans (Saline of Cervia): 827 ha of protected nature reserve, part the South Station of the Po Delta Park, which can be visited on foot, by bike or boat.
Fully open to the tourism all over the year, Milano Marittima offers a wide range of top quality services ready to satisfy all kind of demands. The ideal destination for an "active holiday".
Ravenna, just 25 km faraway from Milano Marittima, is a UNESCO site which preserves the richest heritage of mosaics dating from the 5th and 6th centuries AD within its early Christian and Byzantine religious buildings, as well as other monuments like Dante Alighieri's tomb.
In the Ravenna province, you can visit also Brisighella, a tipical medieval village where is made a precious extra virgin olive oil, Casola Valsenio,  with its Garden of Medicinal Herbs or Faenza, capital city of ceramics. Just some kilometres away from here you will discover amazing surroundings, rich in art, history, nature and traditions. From flatland to the hills, there is a wide range of choice. 
You just need half day off from the beaches, to appreciate the village of Bertinoro, where to drink famous Albana white wine; or Forlimpopoli, location of "Casa Pellegrino Artusi", a centre of gastronomic culture, devoted entirely to Italian home cookery; or Cesena, home of Biblioteca Malatestiana, World Heritage Site; or Forlì, with its big exhibitions at San Domenico Museums.
Visiting local farms you will have the chance to test all their home made products and wines; whereas artisan shops will show the production of their handcrafted goods.
Slow Food presidium since 2004, characterises local cuisine in a unique way, offering its guests a vast selection of typical fish and meat-based dishes.
In the fallowing sections you will see the planned menues for friday evening, saturday evening and sunday.  The lunch of friday and saturday is not organized by the group and all partecipants will be free to visit around and find their best accomodations for lunch.
---
HOTEL ADRIA ****
Viale 2 Giugno angolo XIII Traversa, 19
48015 Milano Marittima 
Tel: +39.0544.99.46.65 - Fax: +39.0544.99.46.66 
www.hoteladriaonline.it
 The Hotel Adria will guest all the meeting events.
The rooms booking is managed directly and exclusively by the Hotel staff.
While reserving your stay remember to specify that you attend to the ALFA TANGO meeting, and of course to leave your call sign.
These are the special rates reserved us:
Single room

(B&B)

:
€ 45,00
 
Double room

(B&B)

:
€ 70,00

(35+35)

Triple room

(B&B)

:
€ 98,00

(35+35+28)

Quadruple room

(B&B)

:
€ 105,00

(35+35+35+0)
Childrens until 6 years old are free.
Children from 7 to 12 years old will have a 50% discount.
Free services: Wi-Fi, use of the swimming pools, small pets in room admitted, discounts on beach umbrellas and sunbeds rental.
---
Friday 13 september

Guests arrival and free time for visit the area and the beaches
Dinner based on fish (equivalent alternative available on request)



 

Saturday 14 septenber

Guests arrival and free time for visit the area and the beaches
Dinner based on fish (equivalent alternative available on request)
Poolside music. DJ set by 1AT670



Sunday 15 september

Guest arrival
10.30 MEETING ROOM
           - Speech by the President 1AT001 Aldo and prizes for:
           - Contest France
           - Polish Contest
           . Woman's Day Contest 2019
           - 2018 World Contest
           - Sprint Contest Emilia-Romagna 2019
           - Italian Contest Prizes 11mt. Extended 2019
           - Italian National Contest AT 2019
13.00 Gala lunch based on typical local dishes and specialties
            During lunch, a rich lottery with fantastic prizes

 
Friday dinner (fish dishes, equivalent alternative available on request):  € 35,00
Saturday dinner (fish dishes, equivalent alternative available on request):  € 35,00
Sunday gala lunch (tipical local dishes):  € 30,00
A special menu for childrens until 12 years old will be available for € 12,00:  first and second course, side dish, ice cream.
Dinners and lunch can be reserved with the form below.
No obligation, no anticipations or payment are required. All can be done at your arrival to the team on site:
You must be registered and logged in to see this form.
Devi essere registrato e accedere con le tue credenziali per vedere questo modulo.
---
How to reach Milano Marittima by public transports?
By airplane, the nearest airports are:
Bologna, G. Marconi (km 90)
Forlì,  L. Ridolfi (km30)
Rimini, F. Fellini (km 30)
By train, you must choose Cervia - Milano Marittima as the arrival station. The town is connected with the cities of Ravenna and Rimini by a large number of regional trains, both during the summer and winter seasons.
From Bologna you can also chose a private car rental service, minivans and station wagons with driver. Routes at a conventioned rates by Bologna Central Station or Bologna Airport for Milano Marittima or vice versa (agreement reference: "Alfa Tango amateur radio meeting Milano Marittima 13/14/15 September 2019").
For more information visit https://www.cosepuri.it/servizi/offerte/offerta-13/
---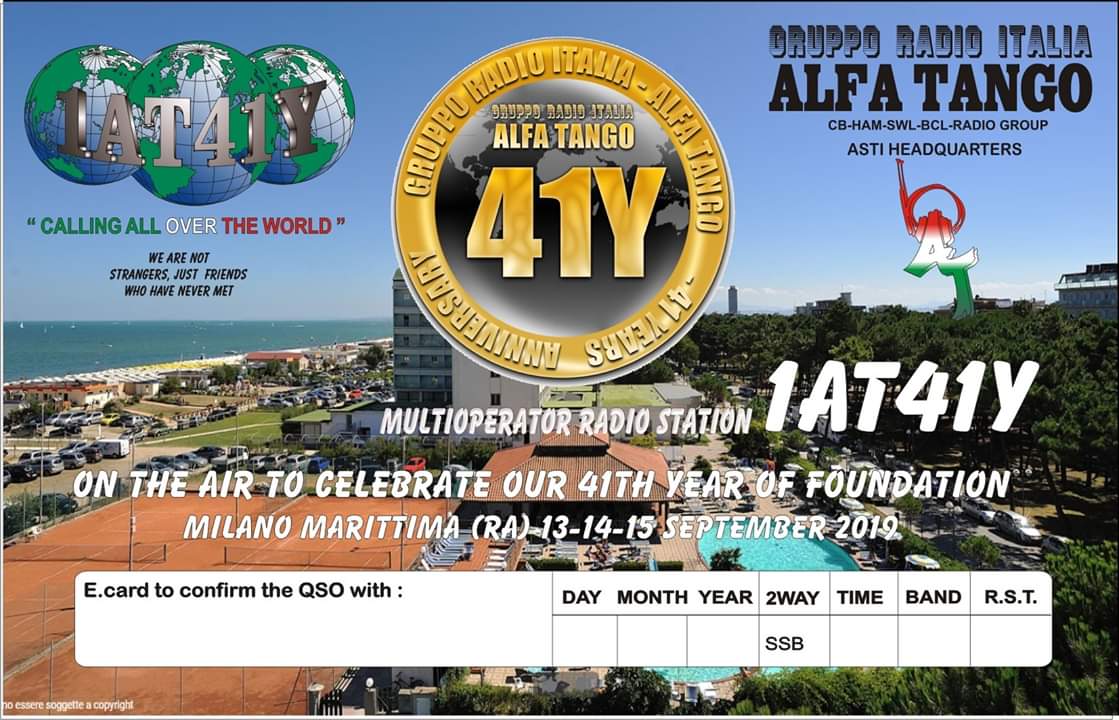 Fri
Sat
Sun
1AT097 Giorgio
2
1AT074 Max
1
1
1
1AT802 Luciano
2
2
2
1AT619 Fabio
4
4
1AT019 Antonio
2
2
2
1AT019 + 1AT319
1AT008 Fabrizio
1
1
1AT010 Roberto
1
1
1
1AT499 Davide
2
2
2
1AT422 Ennio
2
2
2
1AT272 Gianni
2
2
1AT272 + 1AT325
1AT709 Wally
1
1
1AT030 Ron
1
1
1AT250 Vito
2
2
2
1AT250 and XYL
1AT011 Diana
1
1
1
1AT239 Mirko
1
1
1AT1888
1
1
1AT001 Aldo
4
4
4
1AT001 + 1AT1000 + Federico and Marina
14AT326 Jacques
2
1AT127 Luciano
2
1AT692 Aldo
1
1AT062 Paolo
2
1AT1507 Pietro
1
1AT868 Luca
2
15AT018 Mimmo
2
15AT011 Claudio
1
1AT463 Giuliano
2
1AT255 Sandro
2
2
1AT255 + 1AT631
1AT580
2
2
1AT580 + 1AT657
1SA141 Gabriele
2
1AT1319 Andrea
3
3
1AT1319 + XYL and girl
1AT937 Marco
2
2
2
165AT017 Mario
4
4
1AT670 Marcello
1
1
1AT511 Gaetano
4
1AT511 + XYL and boys
1AT28 Salvatore
1
1
1AT1931 Antonio
1
1
1SA222 Alessandro
3
1SA222 + 1SA078 and XYL
1AT084 Giorgio
2
1AT041 + 1AT084
1AT474 Christian
2
2
1AT474 + XYL and boys
1AT857 Agostino
1
1
1
1AT227 Livio
3
1AT1020 + XYL and boy
1AT025 Mauro
1
1AT477 Marco
2
1
1AT014 Vincenzo
2
2
1AT708 Domenico
1
2
1AT708 + 1AT2708
1AT135 Walter
1
2
1AT135 + XYL
1AT917 Patrik
3
1AT013 Lucia
2
2
2
1AT013 + 1AT018
1AT570 Darek
4
1AT570, YL and relatives
1AT185 Max
1
1
1
1AT1290 Paolo
1
1AT2295 Erica
1
1SA109 Stefano
2
1AT506 Piero
1
1AT1142 Geppo
2
1AT1142 + 1AT270
1AT387 Filippo
3
1AT387 + 1AT291 + 1AT774
1AT512 Dario
1
1
14AT012 Patrick
1
1
1
1AT070 Simon
3
3
3
1AT070 + 1AT880 + 1AT950
1AT027 Giancarlo
2
2
1AT027 + 1AT2027
1AT077 Gino
1
1
1
1AT610 Renato
1
1AT033 Mauri
1
1
1AT1224 Andrea
4
1AT1224 + 1AT2224 + 1AT2112 + Giulia
1AT217 Mic
2
2
1AT 217 + 1AT48
1AT480 Domenico
1
30AT032 Antonio
2
2
2
30AT032 and XYL
1AT424 Gianluca
2
2
2
1AT424 + 1AT2424
1AT501 Rino
1
1AT1011 Fabrizio
1
1AT076 Ivo
2
1AT076 + XYL
161AT029 Hania
2
2
2
161AT029 + 161AT2001
1AT006 Piero
2
2
1AT06 Piero + 1AT2006 Gianna
1AT020 Marco
2
2
1AT020 and XYL
1AT016 Giovanni
2
1AT016 + 1AT707

Fri
37

Sat
79

Sun
134